This piece is from SD HistCon founder Harold Buchanan. This is the fourth piece in a six-part series looking at the history of San Diego in World War II. (The first, second, and third parts can be read here, here, and here. If you're interested in registering for SDHistCon Summit 2023 from Nov. 3-5 and exploring some local history along the way, limited tickets are still available here.)
In part four of the discussion of the impact of World War II on San Diego, we discuss the contribution of turf to the war effort with bases and training facilities. San Diego was the heart of the Pacific War's military operations. Further new posts in this series will follow over the next few weeks.
Harold is an award-winning designer whose designs include Liberty or Death (2016), Campaigns of 1777 (2019), and Flashpoint: South China Sea (2022). He has been a historical gamer since 1979. Harold is an Adjunct Professor of Finance at The University of California San Diego. You can follow him on Twitter here.
San Diego's Military Turf: Home Base of the Pacific During World War II
In American World War II chronicles, the narrative of San Diego's strategic positioning during the tumultuous years of World War II holds a unique stature. Resting on California's sun-drenched coast, San Diego was far more than a mere picturesque landscape; it was the beating heart of the Pacific War's military operations.
Naval Base San Diego: An Evolution
The San Diego Destroyer Base was born in 1921. A rather modest establishment of 97 acres, its trajectory during the Second World War was nothing short of transformative. By the cessation of hostilities in 1945, this once diminutive base had expanded its territorial imprint to over 2,000 acres.
Initially serving a fleet of destroyers, the base developed into a multifaceted naval hub, catering to an array of vessels ranging from the imposing aircraft carriers to submarines. This expansion not only marked its evolving role, but also underlined its indispensability in the Pacific's naval strategies.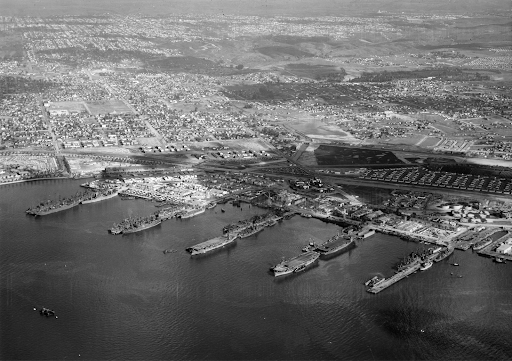 Camp Pendleton: The Marine's Crucible
Further along California's coast stands another monument to military prowess: the Marine Corps Base Camp Pendleton. Its inception in 1942 heralded a new era in marine training. Encompassing a vast 125,000 acres, this establishment bore the name of Major General Joseph H. Pendleton, a visionary who had long championed the cause of a West Coast marine training base. 
The diversity of terrains within Camp Pendleton, from pristine beaches to rugged highlands, offered a comprehensive training ground. And that simulated the myriad battlegrounds that the Marines would face in the Pacific arena.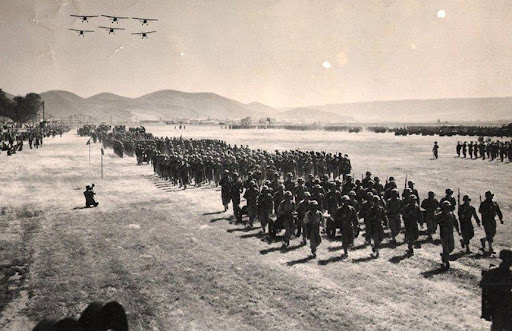 Camp Lockett: Horse Soldiers' Last Stand
East of San Diego in Campo was Camp Lockett. With thousands of soldiers and horses, it was the initial home of the 11th Cavalry Regiment. 
As was common at the time, the base was segregated. The base was closed in 1944 and became the first Army Service Forces convalescent hospital in the United States. It also became a prisoner of war camp in 1944, housing Italian and German prisoners of war.

Camp Callan: U.S. Army Training, Sir
Located on the coast of California, just north of San Diego in the vicinity of Torrey Pines. Established in 1940, the camp was strategically positioned overlooking the Pacific Ocean, playing a role in coastal defense preparations against potential threats from the Pacific. Spanning approximately 800 acres, Camp Callan became a hub for training anti-aircraft artillery battalions. Soldiers learned the nuances of various weapons systems, honed their marksmanship, and underwent rigorous physical training. 

While the Naval Base and Camp Pendleton are undoubtedly luminous stars in San Diego's World War II history, the region also boasted a constellation of other significant installations:
Naval Air Station North Island
Perched on the Coronado peninsula, this bastion of naval aviation emerged as an essential hub for aircraft maintenance, pilot training, and seaplane operations on the West Coast.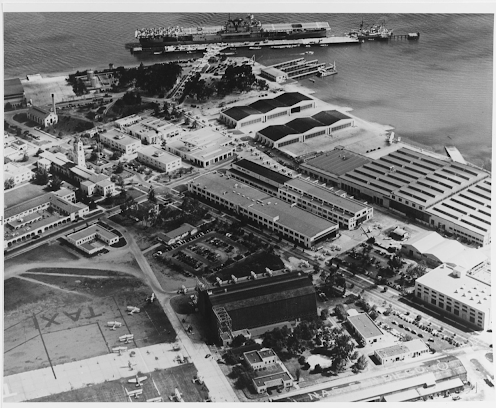 Naval Training Center San Diego
Located in the historic Point Loma precinct, this sprawling 550-acre facility was the alma mater for enlisted sailors, imparting rigorous training tailored to the exigencies of wartime naval service. The former base is now a sprawling community center, Liberty Station. 
The base has been the setting for several movies. Those include Battle Cry, Here Comes the Navy, Top Gun, and the Abbott and Costello film In the Navy.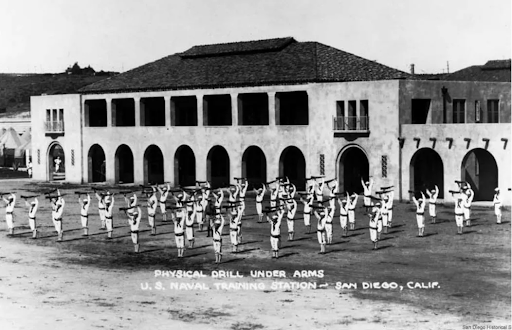 Fort Rosecrans 
A sentinel of coastal defense, Fort Rosecrans underwent significant modernization during the war. It was equipped with state-of-the-art artillery and radar systems, ensuring the impregnability of San Diego's harbor.
Miramar Naval Air Station & Marine Corps Air Station Miramar 
Sharing a colossal 14,000-acre territory, these sister installations became pivotal in the annals of aviation history, serving both as training grounds for budding aviators and operational bases for seasoned squadrons. Many readers will be familiar with the Miramar Naval Air Station in its role as Mav and Goose's base in the movie Top Gun.
The Guns of Birdrock south of La Jolla 
The facilities included anti-aircraft guns, ammunition magazines, storage buildings, barracks, and gasoline pumps. The first rounds were fired on September 2, 1942 and continued day and night until the facility closed down on November 3, 1945. Over 300,000 men and officers were trained there over the course of the war. "Millions of rounds of ammunition" were expended, damaging local structures.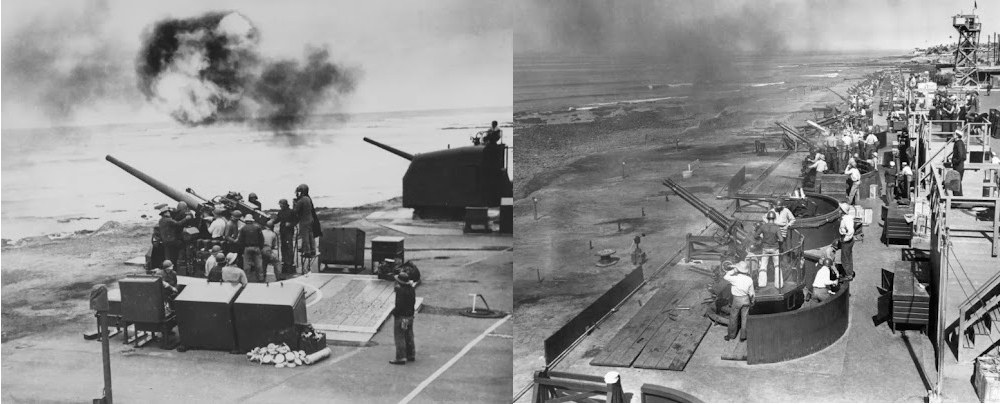 San Diego's tapestry of military establishments underscores its strategic significance during World War II.